Let's take the boring long games, crotch grabbing, & the
spitting of baseball, & add the 'majesty of Football' to it!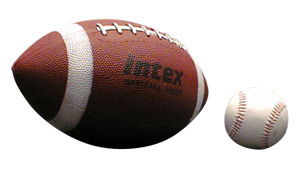 (make a baby!)
People are allowed to tackle you on your way to 1st base
After home runs, you get a fresh baseball, & can now do
a 'dance' spiking it at home plate. If another player from
the opposing team can run out & intercept a pop fly, the
batter gets another at bat. Ohhhhhhhhhhhhhh it's so on
Then again, I'm drinking out of the bottle at 11am so it's
possible I am just really really really drunk. Meh, rock ur
weekend my peeps, whereever you are. Be cool & cheers
Have a weekend!