How can a guy anatomically BOTH be an asshole & a dick?!?!
Don't know, but Republican Darrell Issahole does it perfectly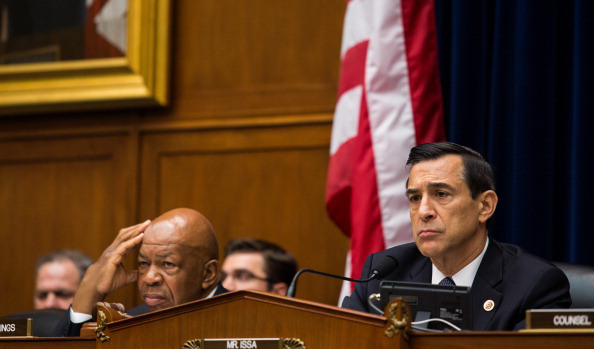 (stupid circus)
You know what time it is; it's the "Darrell Issa Silly Show Fun
Time Bullshit Hearings". That means, you don't have to listen
to others, have facts, or ever follow procedure. The guy with a
gavel is the only one who can do anything ever. He decided to
cut another committee members mic, and end the hearing HE
fucking started on the "IRS scandal". Forget the FBI found 'no
crime or wrong doing' releasin' their full report. So, will it stop
Darrell "My Partisan Political Theater Of Lies" Issa?!?!?! Nope
("Me lie pretty")
He does not care about facts, reality, proof, or anything that is
NOT about partisan lies, hate, or the big insane TeaOP agenda
He shutdown his own committee by cutting D-Elijah Cummings
mic, & prematurely ending the hearing when he was 'speaking'
Ah yes, the ol' "Stop talking when I shut off your mic lil' bitch"
Guess Issa just wanted to call the committee to order, & smear
Lois Lerner who plead the 5th, in order to find a greater 'truth'
Nope, just playing the usual, "Republican BS Political Theater"
games. And during the hearing, not a single job was created or
talked about. These assholes get elected by YOU so wake UP!!!
("WTF is this!?!?")
If you keep electing this insanely hateful bankrupt assholes, &
you wonder why things are broken, then find a fucking mirror
It's like if Mean Girls was real, & the Plastics are all TeaOper's
Issa fucking KNEW Lerner would plead the 5th, and he STILL
put on the big dog & pony insanity hour; and we paid for it all
Issa told everyone there to, "shut it down" (the hearing) as the
pissed & confused Cummings pleaded, "I am a member of the
Congress of the United States of America. I am tired of this!!!"
Yes, SO ARE WE ALL representative Cummings! Issa the ass!
Seems Darrell Arson should either be removed or be censured
Democratic Gov Jerry Brown, said this "stupid thing" on weed
Oh, & baseball season is right around the corner. No seriously
It is waiting with a gun to 'rob you' so take another side street
Have a day!