TeaOP'er Lee "Not So" Bright wants another 'Uncivil War 2.0'. He needs
it because the "federal guberment" has stolen his liberty. What does that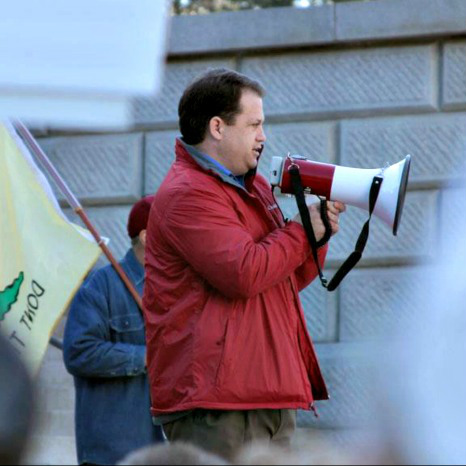 ("Listen to me be racist!")
mean? By "liberty" he means "don't let the ni**er in the white house take
our good white male tax $ & help any minorities with it!". You might say,
"But goooooosh John, how do you know that?". Well the confederate flag
in the back ground is a pretty good tip off #1. Oh, & he openly said it here
"We don't want to have to use the Second Amendment, we're a
peaceful people. But we will not be the generation that lost our
liberty. People ask me all the time, 'I don't know what I'll tell my
children, I don't know what I'll tell my grandchildren.' Well, I'm
not going to have that problem, because I'm not going to be here.
I want to lay down my life for my liberty just like my forefathers"
Charming fella. By "charming" I mean "Seditious treasonous pile of puke"
Could any human being ever make Lindsey Graham look somewhat sane?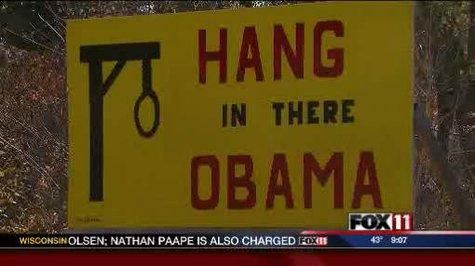 (yes, we know…)
The answer is no. But this turd Lee Bright can. Forget Lindsey's a big lying
partisan prick. It's like choosing between having your penis ripped off with
a bear trap, OR have your body sawed in half & "shipped" to opposite ends
of the US. One you still might be alive but have no dick. The other, you die
Lee's a birther Trumply sayin' "We don't know how his(Obama) education
was paid for, but it looks like it was handed to him, and we can't even find
out". Ahhhh, the strong aroma of blatant racism to boot. When they do the
movie of him after he's imprisoned for 'sedition', only Paton Oswalt gets to
play him. South Carolina you all got some SERIOUS fucking problems here
("I'm a terrible turd")
*pointing directly at ALL their happy tolerance and love of blatant racism*
It is a sad sad sad state of affairs for the "TeaOP" today. Bigots and morons
Lee & all the hateful tiny coward blow hard racists talk a good game but it's
all just steam escaping. I quote Tombstone with all these treasonous pricks
"Go ahead, skin it! Skin that smoke wagon & see what happens!". My guess
is they will just stand there taking each slap & bleed like Billy Bob Thornton
And it all ends by taking them by the ear, and throwing them out of the bar
("I said throw down")
AGAIN, this gets louder, & more angry, but it will all die off. Solely speaking
demographically, they will never hold national power again; and that's great
Tomorrow: the lunatic right said Nelson Mandela was a "Commie Terrorist"
Have a day!
We don't know how his education was paid for, but it looks like it was handed to him, and we can't even find out." – See more at: http://www.rightwingwatch.org/content/south-carolina-senate-candidate-itching-refight-civil-war#sthash.ixDKpfBa.dpuf
"We don't want to have to use the Second Amendment, we're a peaceful people. But we will not be the generation that lost our liberty. People ask me all the time, 'I don't know what I'll tell my children, I don't know what I'll tell my grandchildren.' Well, I'm not going to have that problem, because I'm not going to be here. I want to lay down my life for my liberty just like my forefathers did." – See more at: http://www.rightwingwatch.org/content/south-carolina-senate-candidate-itching-refight-civil-war#sthash.ixDKpfBa.dpuf
"We don't want to have to use the Second Amendment, we're a peaceful people. But we will not be the generation that lost our liberty. People ask me all the time, 'I don't know what I'll tell my children, I don't know what I'll tell my grandchildren.' Well, I'm not going to have that problem, because I'm not going to be here. I want to lay down my life for my liberty just like my forefathers did." – See more at: http://www.rightwingwatch.org/content/south-carolina-senate-candidate-itching-refight-civil-war#sthash.ixDKpfBa.dpuf
"We don't want to have to use the Second Amendment, we're a peaceful people. But we will not be the generation that lost our liberty. People ask me all the time, 'I don't know what I'll tell my children, I don't know what I'll tell my grandchildren.' Well, I'm not going to have that problem, because I'm not going to be here. I want to lay down my life for my liberty just like my forefathers did." – See more at: http://www.rightwingwatch.org/content/south-carolina-senate-candidate-itching-refight-civil-war#sthash.ixDKpfBa.dpuf