Papa John's Pizza owner John is soooooooo upset about Obamacare
He just can't afford paying the extra 5-8 million to cover his workers
Forget that Forbes said his numbers are a lie, forget it's actually only
(what a douche)
3.4 to 4.6 cents a pizza to make sure your workers have decent health
care; instead of 10-14 cents for each pizza like he claims. Holy shit!!!
That would never work ever in the history of forever. He just can not
AFFORD to part with that 5-8 million, it's KILLING HIM you see???
Geeeeee, I recall this Papa John's ad I've been seeing every 2 seconds
(they even bought ad space in my fucking dreams to run it non-stop)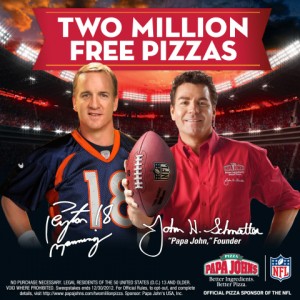 (Super Douche)
with Peyton Manning giving away 2 million free pizza's. But wait, now
how much would that "give away" cost? Ohhh, between 24-32 million
But you lazy TAKERS don't understand, "it's killing him". Wait a sec,
"free pizza"? That sounds pretty damn Socialist to the FOX news crew
Karma's a bitch. He's getting sued for $250 million for text spamming
And it just could not happen to a bigger hateful massive talking anus
Do You Know Mitt Romney?
Well you will now. On a phone call with his donors he laid out why he
thinks he lost. You will be happy you didn't elected this mega assface: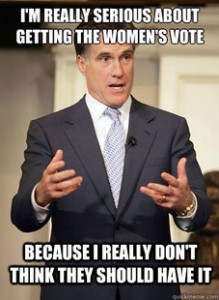 (True)
"The president's campaign, if you will, focused on giving targeted
groups (minorities) a big gift. He made a big effort on small things
Those small things, by the way, add up to trillions of dollars. I am
very sorry that we didn't win. I know that you expected to win. We
expected to win. It was very close. And so now, we're looking & saying
'OK, what can we do now going forward?', but frankly we're still so
troubled by the past, it's hard to put together our plans for the future"
Right, it wasn't your dislike for 1/2 the country in the 47% remarks, &
it wasn't that you ran a turdy hateful campaign on lies & new positions
It was not that you were a stupid bully douchey out of touch plutocrat,
And it wasn't proudly standing by a batshitnuts endorsement of a "you
must STILL have the rapists baby since it is a gift from God" Mourdock
Oh no. It was all cause "Obama gave minorities stuff". Ahem……that is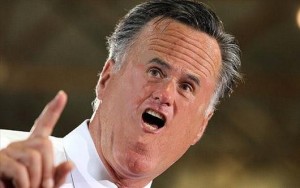 ("I'm a fuckhole")
what politicians DO. They campaign on policy & promises to help folks
You decided to campaign on helping the top 3%. Well, not many votes
Now that he doesn't care, he was free to go "full on douchebag" for us
Let's all just think of this as his one final "racist fuck off 97%" moment
And that'll be the last thing you ever hear from Mitt "Assbag" Romney
Lady Gaza
Funny title, but seriously bad shit happening. Hamas is Palestine's
militant arm. There has been some rockets fired into the Gaza strip
injuring 8 Israeli people. No deaths. Now Israel decided to do a big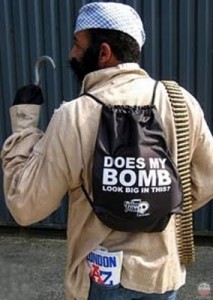 (Ga Der)
massively disproportionate strike back offensive on Wednesday. So
when it's the Palestinians killing civilians, it's terrorism, when it is
Israel, it's "collateral damage". Any civilians killed by anyone to me
is disgusting & wrong. The Israeli people complained as to the noise
of the primitive rockets launched into Gaza. Let's agree, it is totally
wrong for Hamas to do this, 100% wrong. This is a serious issue, no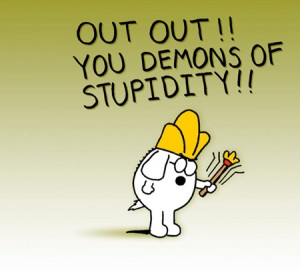 (No shit)
doubt about it. It does require action, and defense, but does it mean
Israel should now hammer them into oblivion? No, to me it doesn't
Here's what went down: Israeli defense forces blew up the car and
killed Hamas Military chief Ahmed Jabari. Now Israel will cheer &
celebrate his death as a terrorist. Now, he was the elected leader in
open elections. What would Israel do if Hamas did that to them??
Oh yeah, not good. Not passing judgement on him, but showing an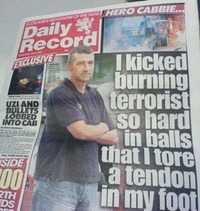 (Oh, thanks)
unacceptable amount of collateral damage that killed 10 innocents
some children, that had nothing to do with Hamas rockets. It's so
sad, & fucked up. Bottom line: The Ottoman Empire literally gave
away the Palestinian land to Jews for them to call home. So what
would you do, if you got ruled by someone, & they gave your land
away? Well, that's what they're still fighting over to this day. And
all Palestine wants is "statehood" through the UN to exist. But no,
Israel will block it, stop it, & try to wipe em off the face of the map
The only solution is peace you two jackass's. If you lunkheads just
want to play religious Hatfields VS. The McCoys, it all ends badly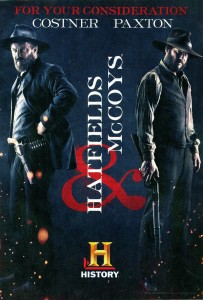 (Just don't)
It'd be like someone starting a bar fight, so you kill everyone in an
entire neighborhood. It makes absolutely no sense at all you guys
Hey Palestine, stop firing rockets. Hey Israel, stop using nukes to
kill an ant. Everyone, just take a deep breath. You don't want this
Update: today Al Qaeda splinter groups not attached to Hamas
launched another rocket killing 3. You jihadists best STOP IT!
Have a day!