What if I told you, a wife ran over her husband because he didn't
go out & vote for Romney? You'd call me fucking crazy, right????
(Eh, a man!)
Well it happened. This fucking women tried to run down her boy
friend in a parking lot. He tried to hid behind the light poles. But
got gutsy, and made a run for it. He lost. He's now in very critical
condition after she ran over him. What the fuck is wrong with the
group of nutjobs out there? How about the one girl at Cold Stone
Creamery who was fired after a racial slur & death threat against
Obama. Classy gal. Meh….these secessionist racist turdholes will
(Oh boy)
be rightfully demonized, marginalize, and way less of them in the
coming years. Obama spoke today on a number of issues, 1 being
the upcoming taxes debate. Obama won't back down, & now the
Republican's, actually only Boehner, McConnell, & a few others
are basically shouting, "No, fuck off! We are not raising taxes at
all, or ever!". OK, it'll end your entire party way faster than even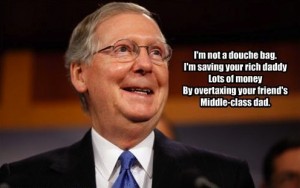 (I'm a dick)
I thought. See, the people voted for this. If you do not listen, you
will be gone in 2014. The entire Republican party was looking to
end around 2016 or 2017, but if you'd like to speed it up……cool
If Obama take a turd deal of only raising tax rates on the top 3%
up half to 37%, he will lose ALL the election VOTERS he just got
Petraues, & now General John Allen is all linked together in this
("Is she still looking?")
sex scandal. That's all it is. FOX doesn't care, they will try to link
anything to Benghazi, which is a made up fiction used to smear
hate, lie, & insanely speculate. Let the fucking investigation take
place before you decide what the hell even happened. You can't
tell me how a cake tastes until it is actually all baked and eaten
These two guy used power, & position to bang hot girls. Wasn't
the 1st time, & it just won't be the last. It's simply not about any
intel, secrets, or what happened in Embassy. It's about sex, so
(Yes they do)
let the Libya event details be that, & the Army sex scandal just
be that. But when you hate all things Obama, reality & facts do
not ever matter. And looking at their FOX lies……..it never will
Have a day!