A lifeguard was fired, after saving someone from drowning
Turns out Tomas Lopez was not supposed to cover the area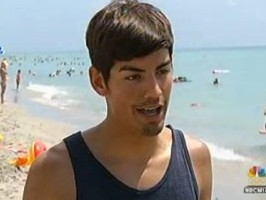 ("WTF?")
he saved the drowning man. The name of the company's Jeff
Ellis & Associates who pay him. Their logic is, "but now you
neglected the area we paid you to watch in helping them, so
you're fired". While technically true, they have no sense of
("Wait, what?")
nuance, reality, or actually real world views. Bottom line is
corporations will never ever act morally to help others. It's
not in their best interests; only profits are. If you wanted a
guy to be saved in there, you must pay for it damn it! Two

("Fuck off")
other lifeguards quit in protest of this shitty move. Wow
our country is really circling the drain fast. Can't wait for
the news story where a neighbor ask for a cup of sugar &
is punched out with the other one screaming, "Freeloader
what the fuck is in it for ME you commie leech?!?!?". Oh,
speaking of what started our downward decent into shit-
("Twice the douche")
town-USA. The bloated chair with a talking hemorrhoid
attached to it known as El DoucheBo decided to say this:
"Naaaaaaaa, I can do one better than that. When women
got the right to vote's when it all when down hill…"
(Miss you buddy)
Ah yes, those stupid women. Rush is just a fat human time
machine longing for days of slavery, oppressed women &
(Truth)
only white religious males owned & controlled everything
He's not supposed to be here, but Costa Rica hates him too
Finally, I want to say this to R-Joe Walsh, who on Sunday
in a town hall meeting said this about his fall opponent:
("I'm a dick")
"Now that's what's so noble about our hero's(not talking
about their service). Now I'm running against a women,
I mean, my god that's ALL she talks about. Our TRUE
hero's, the men & women who served us, that's the last
thing in the world they talk about"
It's a good thing I was not in the audience. I would be in
jail because I would've stood up, & knocked him the fuck
out. Not only did he blatantly lie about McCain who ran
(Idiot)
his entire 2000 & 2008 campaigns on his veteran record
he even wrote a fucking book about it called Faith Of Our
Fathers. But he clearly implied that she "isn't a true hero"
because she openly discusses her service. Oh, & she lost
("I'm a shitty person")
both HER FUCKING LEGS in Iraq you big lying pile of shit
What an incredible human toilet; so long jackass. You will
be out of a job come November. If you're looking for work
might I suggest YOU suit up & head on over to Afghanistan
Have a weekend!