Senior executive at the firm Greg Smith, left Goldman
(If it's Goldman why Silver?)
He quit in favor of saving his soul in an amazing Op-Ed
You could say he pulled a "Jerry MaGuire" if you'd like
But then again Jerry still loved being a sports agent, Greg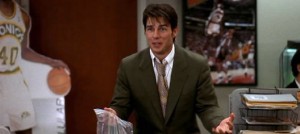 (Who's with me?)
Now pretty much says, "Fuck it". in fact, he said all this:
"It makes me ill how callously people talk about ripping
their clients off", calling clients "Muppet's" & using terms
(Oh, it was renamed)
Like "ripping eye-balls out" & "it's all about getting paid"
But it all comes down to this for me. He makes it simple:
It astounds me how little senior management gets a basic
truth: If clients don't trust you they will eventually stop
doing business with you. It doesn't matter how smart you are
Bingo! No clients, no more business. It's a damn valid point
Before you even entertain any naysayers who are claiming
(Nope, I can't)
He had an "axe to grind" or was "passed over", he wasn't
He was very successful in his 12 years there & managed
More than a trillion dollars in assets & two of the biggest
Hedge funds around. You lost the soul of a great worker
(Boom!)
And that speaks to the decaying host more than anything
To any financial broker out there worth a squirt, hire him
Have a day!