Face it, the jokes will still write themselves
(Where in the world do I sit?)
Sure it gets old, low hanging fruit, but shit balls; they'll still work…
Jump in your Douchness, the water's great lil' magic mouth farter!
She's on a "tour" to I guess promote herself. After all, she doesn't do it enough
Well this weekend she attended a biker rally on a Harley trying to fit in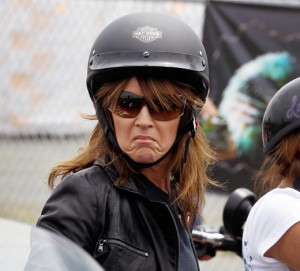 ("I smell 'funny tobacco' smell")
Palin & Harley are very similar
They're both loud, full of smoke, & can't read…
Palin 2012!
("I'll sell her for the right price")
Or 2016, 2020, 2024. We'd accept any of them for comedy
Gambling, Bet You Can't Stop
Chicago has hot dogs, deep dish pizza, two baseball teams AND
A fucking Casino coming. You read right
("Pretty lights makes my $ go away")
Will Robert DeNiro run it?
Maybe, but witch DeNiro will show up?
The hard ass take no prisnors Sam "Ace" Rothstein
("You're fu#king dead")
Or Analyze This emotional wreck Paul Viiti
("You, you're goooooood")
Either way, hold on to your wallet Chicago
It's gonna be a bumpy ride
Have a day!