The "Donald" fired himself from a presidential bid. He said: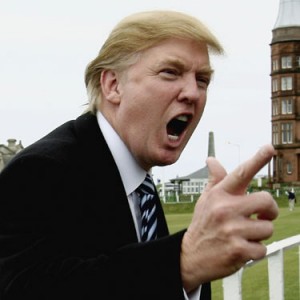 ("Sit on my finger")
"Business is my greatest passion and I am not ready to leave the private sector"
Yes, by "business" you mean making sure Meat Loaf and Busey don't rob a bank
But he did make jokes happen so often is was like Christmas morning
(Nice!)
Knowing they'd all be there waiting when you woke up
Face it, the guy's doucher than a Summers Eve factory
But he'll be missed
Newt's Big Gay Rainbow…
No, it's not the name of the new GOP show on ice or ironic trendy NYC Club
It's a box of Cheez-it's containing glitter
That was dumped on Newts head by a protester who said: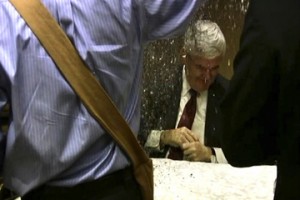 (He's catching "The Gay")
"Feel the rainbow, Newt. Stop the hate. Stop anti-gay politics
It's dividing our country, and it's not fixing our economy"
Hard to argue with the sentiments, but come on buddy…
("So long 2012 bid!")
You didn't get him to change his mind. You never will
Now he just thinks "Man, all fags carry glitter in Cheez-it boxes"
Meh, it could of been a box of emperor scorpions
That woulda been a huge dick move…just sayin'…
Have a day!