Ladies of Craigslist, buckle up…
For a divorced 39-year-old lobbyist flexing shirtless in front of a mirror:
(Flexing, really?)
Who's really a 46 year-old married Republican congressmen from NY
First I can't believe someone lied on a Craigslist profile
*Fake gasp*
Next thing you'll tell me is that Taco bell doesn't serve real beef in their tacos
*Fake double gasp*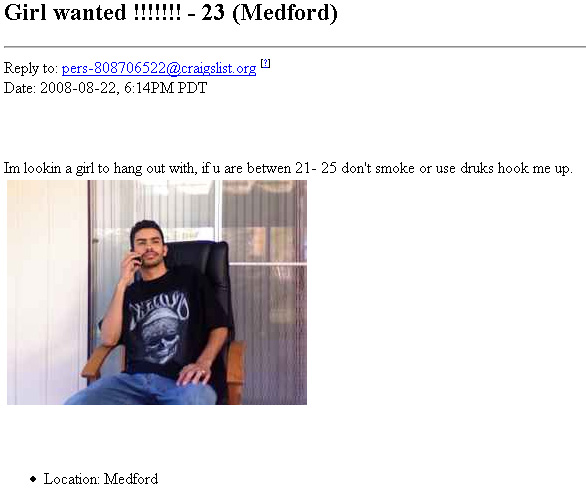 ("Druks"?)
Let's call him the Craigslist Congressman. Well, former congressman…
He stepped down
Oh, and didn't this turd get the memo, Craigslist doesn't do that any more?!?!
Aside from all this dumbfuckery, ladies of Craigslist you've been lied too…
*Fake triple gasp*
But don't act shocked you little cads…
Cause you've been doing it all along too. Like these little gems:
Athletic=70lbs overweight
Average Weight=120lbs over weight
Large=Three refrigerators
Light Drinker=Alcoholic
Social Drinker=Alcoholic
Medium Drinker=Alcoholic
Looking For Relationship=Married looking to bone
Blond Hair=Streaks of blond around dirt
Financially Stable=Less than $23,000
Single=Dating other people looking to hook up
Married=Cheating
Divorced=Looking for someone to marry then cheat on
Smokes Only When Drinking=Two packs a day
Looking For Marriage=Have two or more kids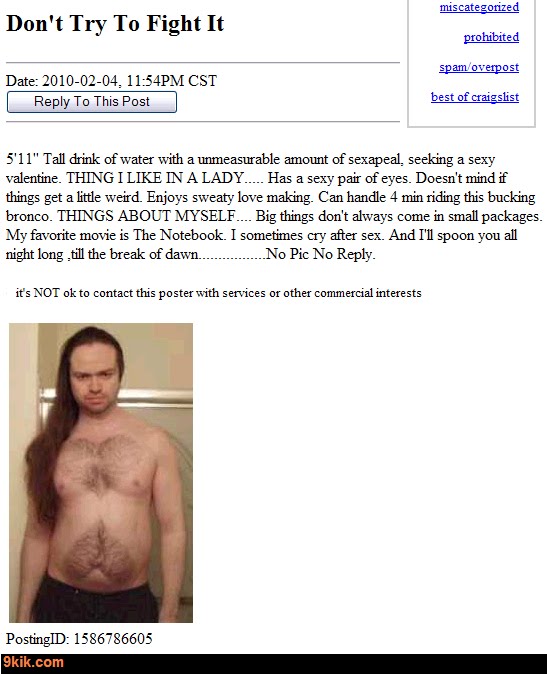 (Nice)
Naturally he's a Republican…
But don't get me wrong, Democrats do this silly shit too…
Wild Bill and Mr. Edwards, I'm looking in your direction
("Woo, look at that Betty!")
It's just they don't bible thump your face screaming "family values"
Then blow the "scorn trumpet" on all cheaters the way Republicans do…
That's they're own unique brand of hypocrisy…
(Where's Larry Craig's comic?)
It'd be like some people cheating in cards from time to time…
But one select group always yelling, "Cheaters aren't tolerated here!"
"They're all evil, losers, and deserve to have their groins destroyed"
While holding 5 aces in their boot…
It's a special brand of dipshit pie only they serve up…
I was honestly surprised it was women…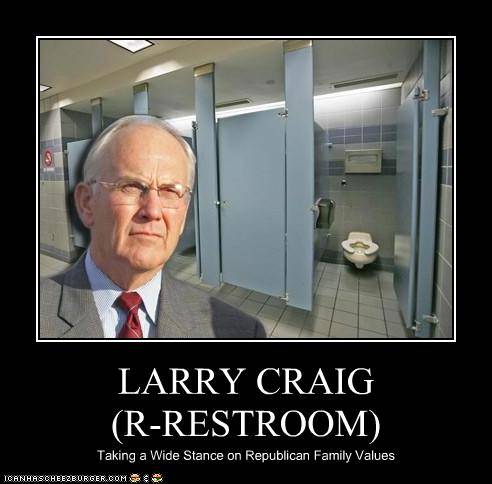 (Toe tapper)
Normally the family values Republicans go for the boys…
And if you're against gay rights, you can book it
Have a day!