Obama addressed the country last evening. He said, "So I think we're off to a good start, but it's just a start. I'm proud of what we've achieved, but I'm not content. I'm pleased with our progress, but I'm not satisfied."
(Explains the burrito size he likes when high)
He also said, "So we have a lot of work left to do. It's work that will take time, and it will take effort. But the United States of America, I believe, will see a better day."
It feels like a lover saying to their newly devirginized mate, "Meh, pretty good for your first time out, but we'll need to work harder at it. You'll get better"…
He's like a really nice dad wrapped in a wise old Chinese sage coating…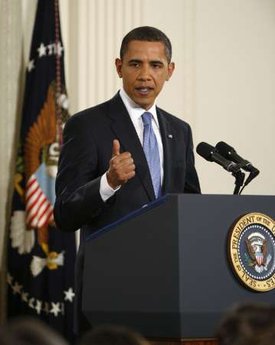 (Obama tries to hitchhike from the podium)
He listens fully, understands the question, then answers it carefully…
Holy crap it's been a long time since we had a leader like that…
The GOP's response? If you turn on Fox, he sucked, "nothing really happened", and now Obama wants to "meddle in the affairs of the free market too much". Really? You sure about that? It's not like these business came begging on hands and knees for money to stay in business. Oh wait,they did? Then it's our money, we're the primary shareholder, so we DO have a say in how they use it. If you watch other channels, he did well handling things with style, tact, and made sense…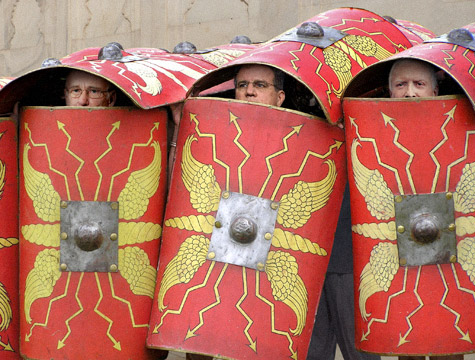 (Republican Senators form a Roman Tortoise)
The far fringe right is running the GOP. The Palin's, Rush's, McConnell's, Beck's, Boehner's, and Hannity's . They're in serious trouble looking at a shrinking party. They remind me of Kevin Bacon from Animal House sayin', "Remain calm, all is well"
(All is well!)
Take a hint from Megan McCain, she's the future of your party…
You Sank My Battleship!
Remember this awesome game?
(Nice hair 70's douche)
I remember loosing all the pieces trying to find them in a super shag rug. I also remember the all too common "I'll switch my boats around when you're not looking to a place I know you didn't call BS cheating style" my brother had…
The Swine Flu outbreak feels like Battleship. It's getting silly. One death. ONE, and it was from a 23 month old child who came from being in Mexico for a period of time. The flu called out ONE correct number out of an entire US board. It's dumb luck…
The regular flu kills 30,000 people per season. WTF is all this panic about then?
It's just the fucking flu. Puke, diarrhea, fever, headache: the flu. We've ALL had it, even when it was a big ass lie to get out of work or a big test you didn't study for. Sometimes it's even self inflicted after binge drinking and hitting up White Castle…
I was at the opera the other night, said H1N1 virus causes Swine Flu, then an old man sitting in our balcony box stood up and shouted, "You sank my battleship!"…
(That's one way to hide all your ships)
I can't believe there are two Chicago team playoff games tonight…
*Rubs eyes*
Go Bulls, and go Blackhawks. From the looks of the Rondo flagrant foul, both teams might have the exact same amount of fights break out tonight…
PS Bret Favre, I don't give a shit if you want to return. You're not Michael Jordan.
Sit down old man…
Have a day!