It's like a "greatest hits" collection…
First is was the Asian Bird Flu, then Mad Cow, now Swine Flu…
(Bush & Rummy brace for the "gay" virus)
This is where any characters Morgan Freeman's played turns to you & says, "You have to admire its simplicity. It's one billionth our size and it's beating us"…
Officials reported 20 U.S. cases in five states so far, with the latest in Ohio and New York. Unlike Mexico where the same strain appears to be killing dozens of people, cases in the United State have been mild. Authorities can't yet explain why…
(Janet Napolitano ordering crazy bread)
Since everyone in Ohio wears camouflage the flu couldn't even see them, and in New York, the virus was told to "get bent". A man from New York told a U.S. Health authorities inspector, "I got your Swine Flu right here buddy"…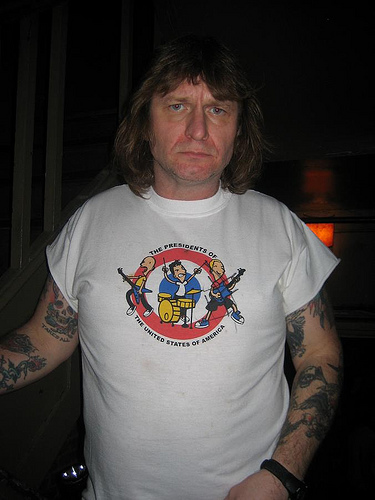 (How about a pile of "shut the hell up?")
When Health authorities explained the seriousness of the situation, the person says, "Serious is when my wife catches me in Atlantic City playin' no limit Texas Hold em with the kids college money. I get hit so hard, I actually black out only to magically wake up two days later, with a broom in my hand, cleaning the garage!
*Pulls at shirt collar to let air out*
You know, just sayin' this flu ain't got nothing on me…that's all"
Looking Dapper In My Ferguson
You're doing 20 to life in prison, feel super suicidal, but need to still look fashion forward. Might I suggest, the saucy sultry Ferguson suicide prevention suit?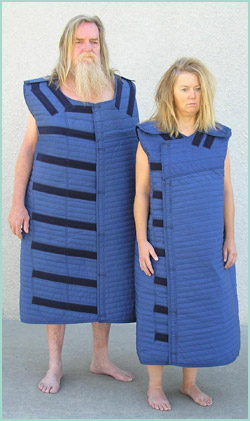 (Cast meth addicts, nice touch)
I know, you love it right. It's a dream with the easy access velcro, but your next question is, "Now I can't off myself, but how do I get some quality shut eye?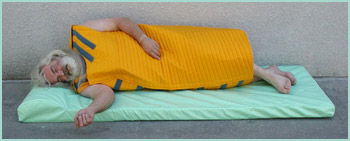 (What's Kenny Rodgers doin' in jail?)
After seeing this on TV all I could think was, do they have it in Yellow?
Bam! They do…
Don't ask for the Craig Ferguson. It's Scottish, and only mildly funny…
Hella Copulator
Love in a helicopter, living it up while she's going down…
Helicopter pilot David Martz was denied his pilot's license because a judge says he starred in and videotaped a sex act while flying over San Diego…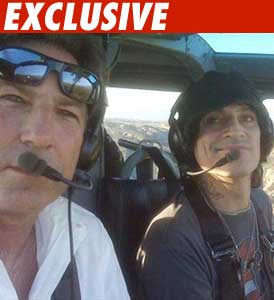 (My new hero David is on the left)
Who does he think he is, Ron Burgundy?
(Stay classy!)
For allowing the use of his helicopter, adult film star Puma Swede gave Ron Jr. one humdinger of payment. It lasted a total of 47.5 seconds…
(Ron thinks he'd of lasted 10 seconds longer)
Only problem, David is married and now he's having problems explaining this who video taped event to her. Gosh no, I'm shocked. You just can't make this stuff up…
Have a day!