The NBA's Atlanta Hawks had a playoff game against the Miami Heat…
While their mascot "Spirit" decided to find better seats delaying the game…
(Nice seat!)
Players watched as the bird was perched atop the scoreboard at tip-off, refusing to go to his handler. News flash, if you've been around pigeons, I wouldn't look up…
(Looks like a "Spirit" press conference)
It's funny. The whole point of the "handler" to to control the bird. I know animals have a mind of their own, but it's sort of the handlers "job" to "break their free will" and are responsible for the success of these decisions. We found a file photo of the handler…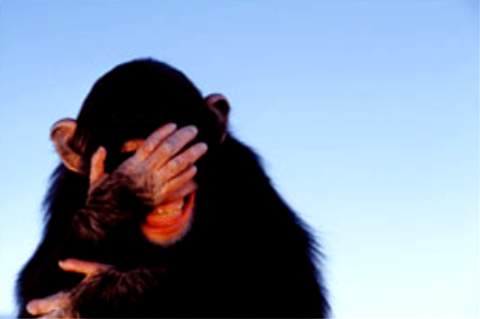 (Damn!)
It'd be like if you were a coach who didn't coach, runner who didn't run, or garbage man, who didn't remove garbage. Then what exactly are we paying you for? To stand around and look cool? Fine, but now I'd like that job…
How Does Your Bipartisanship Taste?
Obama promised "bipartisanship"…
He said, "Whether we're Democrats or Republicans, surely there's got to be some capacity for us to work together, not agree on everything but at least set aside small differences to get things done. People have to break out of some of the ideological rigidity and gridlock that we've been carrying around for too long."
That's one reason he was elected. Now, is that actually happening?
("We're on a mission from Rham")
No, it's not…
Why? While he went in with this outlook, it's clear the right simply want to watch the world burn. It's not about political differences, more like a "anything he says we're going to fight" preprogrammed attitude…
(Too soon? Yeah, too soon)
Something can't be bipartisan if one side refuses to listen. Where were they when Bush was enacting the exact same policies? Happy to oblige, not a peep. The only thing that's changed between then and now is the man in power today is a black Democrat…
What does hate like that create? Stupid shit like this…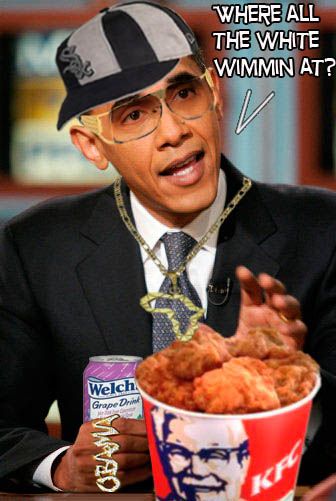 (What, no racist Curious George t-shirt?)
Republicans are now proudly seeking support of these people. They're working their way out of a job by becoming the party of nuts…
They're betting the house on Obama's policies failing…
It's too polarizing an environment which shows what happens when you try to inject hope. It exposes the truly sad, and sick parts of society. I don't agree with everything Obama has done. I didn't like many parts of his budget, don't agree with his stance on SSM, and want health care reform starting sooner…
Yeesh, let the guy really fuck up. He will, for sure, and I'll be glad to have the material. Up to this point, he's been making me work my ass off and I'm sick of it…
Free Beer Friday!
Get ready to wrap your lips around some ice cold suds, drink your face off, and wake up in ditch somewhere with a horse seamen stain on your Stryper t-shirt…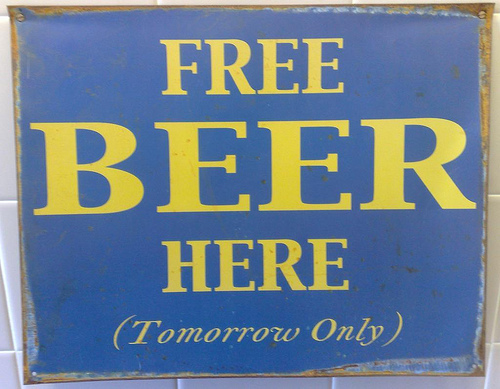 (Read closely)
Good luck…
Have a day!