Remember our Britain's Got Talent(but not clean teeth) singing sensation Susan Boyle?
Turns out someone did kiss her. Now the question is where…
(You cheeky fibber)
Ewwwwwwwwwww…
She said, "It was meant as a joke…I've got a wicked sense of humor, you know!"
Um, Susan…
I don't quite know how to break this too you, but people really thought it was true you didn't kiss anyone in your 47 years. Not because it was a joke, but because they looked at you, how you were acting, and thought, "Yeah, I could see that…"
(Pink's your luchadore color)
That's not a good thing. Looks ain't everything, but when you're entering a contest based on "singing ability", "style", and "looks"; they do count…
It'd be like a super hairy man exclaiming, "I'm Sasquatch", and people believe him. Then a week later he says, "Ha, the jokes on you, I'm not really Sasquatch!"…
Sorry buddy, the jokes actually on you…
Protect Your "McNuggets"
This section is for the fellas. Ladies, take it outside and around the block a few times…
The weather's getting better, & that only means more bike rides, outdoor sports, and activities than before. Which means your "McNuggets" are exposed to serious danger…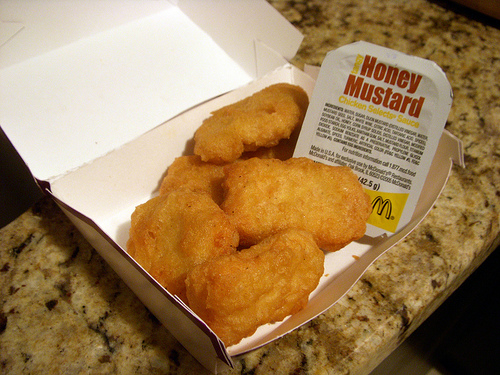 (No BBQ sauce? Jerkos!)
Not those…
Those…
(Good book, it's a nutty read)
You can rack yourself on your bike, get hit with a wiffle ball line drive, or trip in a hole hitting them on a rock. Here are some signs a serious "McNugget shot" is coming:
1) Your friend has a video camera recording, and a kid is batting
2) This is 1st time you've ridden a bike in over 7 years
3) You're feeling very confident, just did something well, and a hot girl's looking at you
4) You start tasting metal in your mouth but you're not wearing braces
5) Bob Saget is standing unusually close to you with a huge smile
(You can't trust that Danny Tanner)
Chicago Bulls playoff game tonight at 6:30pm at home. Let's take their pot-o-gold…
Have a day!