The flavor of the month. He's like opened film…
Overexposed…
(Classy with a capitol "K")
Shit, Zak's so cool, he decided he didn't even need the letter "c" in his name. Unlike that lazy-ass Zack Morris from Saved By The Bell who clearly used it as crutch…
I've a finger full of "fuck you" for the Zak's of the world. When will LA understand, when you shove these manufactured "personalities" on everything and everywhere in seconds, our belly gets stuffed and we're ready to puke…
(AllState: hurl in my hands)
He's 17 Again? How about trying it the first time turd stick…
I heard Disney has an odometer on his neck. Once it reaches 127,000, he spontaneously combusts. They have a GPS in his fart canyon…
(Awww, for me? How super gay)
One day we'll all look back on his body of work and ask, "Remember Zak Efron?", and another person close by will say, "No, not really. But I do remember some kid from HSM who used to annoy the living shit out of me". They'll say, "Yeah, that's him"…
Sweet Charity, Grab Some Bench
You were five minutes late to work because you were doing charity for your boss…
So your manager decides to "bench" you. WTF?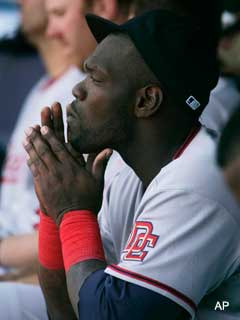 (Don't be such a nice guy, jerk)
Elijah Dukes from the Washington Nationals had just that happen to him yesterday…
The hilarious part, Dukes has been one of the only Washington players to get off to a good start hitting .323 with two homers and six RBI in nine games…
And dipshit decides to bench him over this nitsy shit? Who's dipshit? Manager Manny Acta, who had this to say, "He was out in the community doing something for some Little League program and just showed up late to work. He was very remorseful about it. He felt bad, but we have to lay the law on whoever"
Coming from a guy who's 1-10, and had players in jersey's that read "Natinals", my guess is he couldn't find his ass in the dark with both hands and a flashlight…
(Me speel reel gud)

Guess he just wants to be fired quickly…
Sight Seen
Wrong end champ…
(If it tries to kiss you, watch out)

Have a day!