Shits serious when you're actually placed on a piece of mail…
(Why Maggie mad?)
The Simpson's are now US stamps…
The question now, which character goes on which letter?
Homer-Gas bill
Margie-Letter to the editor of Glamour for using the word menstruation
Lisa-Mount Holyoke College application
Bart-Subscription fee to Stun Gun Monthly
Maggie-Dora The Explorer fan club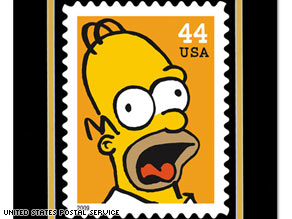 (He's clearly D'oh-runk!)
What's next; Family Guy, Futurama, or Smurfs stamps? Look, if I ever happen to make it on a piece of mail; then it'll be covered in my baby maker sauce…
Hoy-oh!

Aw Shit!
Some days just start off with really horrible news…
(Shine on hurler)
Young Anaheim Angels pitcher Nick Adrenhart died early Thursday morning in a tragic car wreck in Fullerton, Calif. He was 22. Stuff like this breaks my heart…
First thing I thought was, why can't stuff like this happen to total assholes? I, like most of you, have an exhaustive list of assfaces stuff like could happen too. I'm not saying who's on it but a few rhyme with Schmonald Chump, and Chick Deney…
If I Started A Band
It'd be called OC/DC…
(Button up, button down, button up)
We'd tap our foot three times before every verse…
Have a day!