What is it about boogers? We scavenge around in our nose like going through a suit case on vacation looking for the perfect shirt. Bingo, we find it, & out it comes…
(Pick a winner buddy)
Our eyes light up as if we've just seen a long lost friend across the room…
Now comes the most difficult part…
What to do with this magical nostril treasure we've unearthed? First we start rolling it around while thinking, "What next? Do I wipe it under the desk? No, I can't place it where so many other lower grade boogers have gone. For out of all the wonderful selections of crunchy, gooey, thick, or hard nose treats, I specifically choose you from my sniffing storage locker. You're special. You will go in my Booger Jar!"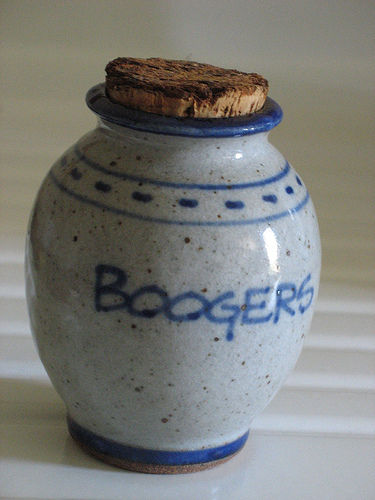 (Nice craftsmanship!)
Everyone keeps a booger jar. Everyone…
But what happens to boogers if we just throw them on the ground?
Do they eventually decompose?
These and many more mysteries will continue to plague us forever…

The Uptight Right…
You lost, get over it…
I heard the GOP even has a new logo to appeal to younger voters. He's called "Flippy" the hip-hop urban elephant who says, "When yous vote Republican, yous da man!"
(Sit and spin)
Hannity, Beck, O'Reilly, Dick Morris, and Michelle "Bachmann Tunner Loonydrive" have lost it. Only thing is that implies they had it in the first place which they didn't. Here are quotes I've seen lately, about how the country has totally changed in three months from December 08 to today…
Bachmann – "American's have to suit up, & realize what's at stake right now. We have to fight for freedom, & the future of our country"
Bachmann – "This isn't a game. This is our very freedom, we've had 230 years of a continuous freedom. That every generation had ceded to the next generation. This may be the time, when that link breaks."
Hannity – "If conservatism doesn't win the day, tyranny will rule"
Beck – "We don't even understand freedom anymore. We are a country that is headed toward socialism, totalitarianism, beyond your wildest imagination."
The "freaks" do come out at night…
Shit sakes, I guess when Bush handed out bailout money in August is was "American". I didn't hear "Socialism!". NOW when Obama does it? Get your fucking guns, start a war at home, and run for the hills ma kettle!
Socialism is the new "Commie"…
It's insane. Deal with it, you lost an election because you're so out of touch with normal American voters. What's you plan? Let's go even "crazier". They're still trying the same "character attack" style from 04…
(Smooth!)
How exactly does speech inciting lunatic action make America Better?
Have a day!