Kicked your boss in the face? I can see it now…
You stayed up all night working on the big new pitch/proposal/idea. You've worked damn hard, it looks great, and you're ready to rock. The meeting starts, everything is going great, when two slides are way out of order. You're confused, but quickly ask if you can "have a minute?". Your boss says, "one minute". You've got it figured out, only problem; it's going to take you a tad longer than a minute. What if right after the minute, your boss stood up and said, "You loose, we're going with Doug's idea.", shakes hands with Doug, then says, "This meeting's over". Would you:
A) Say, "Meh, them's the breaks"
B) Grab everyone's cell, a tray of free bagels, and run out yelling, "So long cockfags!"
C) Politely ask, "May I please have just a few more moments sir?"
D) Kick your boss in the face
In a similar situation, since a boss is really the ultimate authority in judging your work, Cuba's Angel Valodia Matos, kicked referee Chakir Chelbat of Sweden in the face during an Olympic taekwondo event…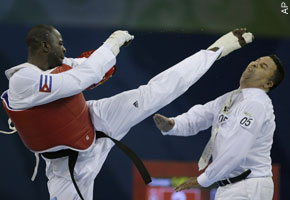 (Sniff my funky foot of doom!)
Yes you read that right. Kicked him in THE FACE! Matos was beating Arman Chilmanov of Kazakhstan 3-2 near the end of the match. Matos was disqualified for taking more than the allotted one minute of injury time when he went to the mat with what his opponent said was a broken toe. Then he kicked the ref in the face with said broken toe(notice the tape)…not very bright…
Needless to say he and his coach are banned from competing in any events for life. These modern day "Karate Kid Cobra Kai teacher" and "student" fucking should be…
(He tells Arnold to whip up some burgers)
These assclams are such tools, they should have Craftsman tattooed on their foreheads. I've heard of a "short fuse" or people with "temper issues", but this guy's is off the charts nucking futs! One question remains. Will taekwondo referee's from all corners of the globe, rise up, travel to Cuba, and wait their turn in a massive line to kick Matos in the face as a sign of solidarity? Here's hoping they do!
With the Olympics over, thank god we have 90210 the "New Years" coming. It's awesome having shows written for severe stroke victims that make you projectile hurl!
(Try to spot the token black guy who sounds white)
Four letters describe this entire channel. Fu CW…