Does your car love you? Nope. Do you think it knows your sacrifices on passing up tickets to see the Molly Hatchet Reunion Tour? No. Does it ever thank you? No. What does it do for you then besides get you from A to B and cost money?
Well, the back seats a great place for friends to puke in who've had too much to drink. It's a great place to sit in traffic, burning gas running your AC while kids peddle by on their shitty bikes. It's also the thing that craps out on you when you need it most like when a strut cracks before the huge Elk's club ham dinner or you blow a head gasket on your way to a date with the local loose tramp Mindy Dewhead…
Why can't they treat you with respect since your coughing up $200 a week in "liquid crack" for them? Why can't they talk about hard life lessons while trying to find true love like in Pixar's Cars?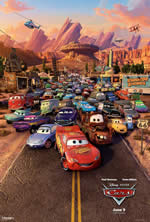 (These wacky cars are just social outcasts looking for acceptance in a world that doesn't like talking cars. Yet we still have that "turn left at light" voice with GPS systems. Ironic)
Here's a tiny suggestion to help cope with high prices. Next time you go to get gas…
Walk in with your last receipt from Chilli-bee's or Benni-garden's and lay in on the counter. When they ask, "What's this?", politely point to the gas prices & say,
"Well since you're fucking me, the least you can do is pay for dinner"