The two Articles Of Impeachment have passed
The House Judiciary Committee. This Is A BIG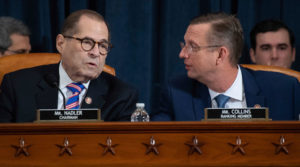 ("Ya lost")
Moment, In United States History. It Passed A
party line vote that is historically amazing. It'll
go Down in History As "Republican's ignored a
criminal President". This "Stain" Can Never Be
lifted. And as this now heads to the floor of the
House next week for debate (Will be quick) we
see Rudy G Visiting Rump which will Surely be
a Bad Omen. And Mitch/Trump Are "Trying" To
stack The Deck in The Senate saying THEY are
totally in "charge" of the entire process. Ahem,
no. 51 Senators are; and at Least 23 are up for
(UK Voting Map)
Re-Election. Goooooood luck. You will  need it
(Rudy Might be arrested soon now since all his
pals are now flight risks due to Russian money)
And the UK Voted yesterday for Boris & Tories
Massively! Well, you Will get some form of the
Brexit Debacle. It won't be what you want and
it Will Sadly Break You in Two. Just Know That
You Were All Warned About This, NON-STOP &
don't Pretend When It's Shoddy/Fails. Ya did it
Have a weekend!