Well happy Presidents Day to
all of you. Maybe during hard
(Day off!)
Economic Shit everyone's fav
President, Is Benjamin Frank
(You know, Cause it's $100's)
'Mine' are Many To Name and
It Is Lincoln, Teddy Roosevelt,
FDR, 'D.D Eisenhower', JFK &
Obama to start. But I'm a big
History Nut so Mine are deep
& for Different Reasons. Oh &
Speaking Of History, Lil Putin
is Royally Screwed. He's In A
If he "invades" it becomes an
'Unwinnable' Insurgency' War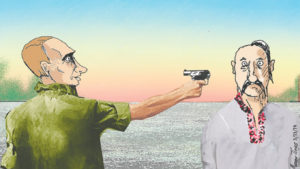 (Losin it!)
(0 for ever) and if he doesn't
he looks Weak. And he's only
Doin' this for One reason. He
doesn't Want Ukraine to Join
NATO. Well, That's not UP to
him. It's Up to The Ukrainian
People. And His Latest Maga
move was Just To Declare he
Of Ukraine. Nope. He, is Also
signaling A Failed Tactic here
All Of The World/NATO stand
united To End this Lil dictator
"Remember", 'NATO' Was Not
(No more!)
around During WWII / Hitler
He's in a big Trap now. Good
NOTE: Virgina's Youngkin Has the fastest
"Approval Rating" drop in modern history
Have A "Safe" Day!