While the rest of The Modern World
accepts the main reason this stupid
(Indeed!)
Pan-Dumbic is still Occurrin' is the
Un-Vaxxed, Careless, Anti-Vaxxers
still clinging onto ignorance, fear &
limitless Stupidity. I Give You, Ron
DeathSantis; leader of the MoRons
Omicron's 'Almost' Run Its 'Course'
& the only Reason It didn't wipe us
out?! Vaccines. The Only Reason It
(We Know)
was bad, the unvaccinated who are
all Dying Off. By the Next Time the
Next Wave Hits, It Just Won't Have
As Many "Morons" Left to Kill off By
Then. Speaking Of Idiots Trying To
kill themselves off?! The GQP Sees
Putin's 'Fascist Violent Russia' as a
"Pal". So Republican's, are In utter
'Disarray'. No War Hawks, No Laws,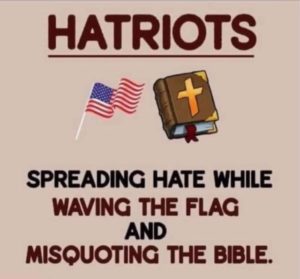 (Gross!)
no support Of Democracy & lots O
Racist Fascist Hate. Not Fit To Rule
NOTE: CPD Officers, Pulled Over A Stolen Car
On Wacker Drive. The Punk Kids Opened Fire
And CPD returned fire Injurin one of the shits
Throw them UNDER the Jail, this is Madeness
All the Cops involved in This should be lauded
Have A "Safe" Day!