Turns out, lying & inciting other
citizens To Violence with Abject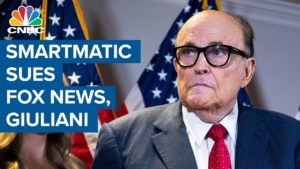 (And Dominion, ha!)
hate Propaganda Is legally Very
bad For You. In fact, A "lawsuit"
against FOX For 'Defamation' is
Allowed to Move Forward. And,
they're Gonna lose it All. Ya see
the key to Any successful suit is
proof that FOX Knew they were
lyin'. And there's Such limitless
proof they did. All Over but the
Crying / Verdict. 'Find Out' they
Will; 'Fuck Around' They all DID
(Busted!)
And, Dominion isn't Settling At
all. Fox'll be Crispy broke toast
NOTE: Boca Raton FLA Cops "Find" Two Dead
Bodies….that Are really just real life Sex dolls
Ha! Talk about blowin the case; endless jokes
(This Story was found by Skylar O who rocks)
NOTE II: Maga 'Terrorist', Gets 5 Years In Jail
Have A "Safe" Weekend!