There will be no government shut
down or Debt Ceiling default now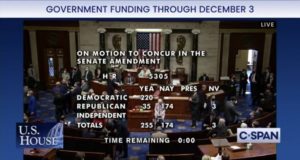 (<-174 Terrorists)
Well, at Least not until December
and then Republican's won't do it
then either. It's an insane Bluff of
lunatic Asshole levels Not knowin'
Pelosi has the Votes to pass' it in
Reconciliation, & Mitch 'Does Not'
It's Futile Shit. They're so fucked
Ha ha ha ha! Toothless, old, Dyin
Party Of Racist Fascist Hate Can't
Get  it?!?!)
Govern, So, STOP Electing these
sociopathic Fossils Of Hate. And,
speaking of Death & hate, ol Ron
Deathsantis is In Deeeep trouble
with voters for "killing gam gam"
& not giving on single shit about
it. In fact, He Correctly Deserves
ALL the Blame in Trying To Just
ignore it, Like that other guy did
(Bingo!)
saying "It'll just go away". BUZZ
Nope It didn't asshole. You gone
NOTE: "Hell Hath No Furry" Like 'A Lying Adulteress'
woman busted. Noem cut ties with her Maga boy toy
Have A "Safe" Day!