One 'Thing' the Republican Party
isn't Good at: the truth, Science,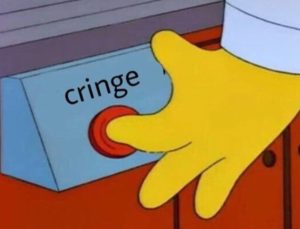 (<-R's Today)
facts, math, History, economics,
statistics, logic, Voting, honesty,
government, serving citizens, or
literally Anythin' involved In the
jobs they took. Now we Can add
"Apologies" to Shit They are not
good At. Marjorie Greene 'Tried'
to Apologize, After Telling all of
the Media Weeks be-4 That She
never 'said' the racist Holocaust
shit she said. The "Only" reason
all R's ever fake nonapologize is
(Change it)
Consequences. That is it. Fidots
Good News, In Chicago, Almost
70% of Adults have at least one
vaccine Shot. Stay Focused, but
it's almost over folks, it'll never
replace the loss but Better days
are In fact "Ahead" For all of us
Last Night on The Late Show, it
took Jon Stewart to Spew Some
of the MOST insane hateful Shit
by Attacking Science, 'Peddling'
just Confirming that He Did not
(Ugh)
handle the Pandemic Very Well
at All in Isolation. We Don't yet
Fully Know The Origins of "this"
yet but injectin' hate isn't right
It gives cover to Racists, shame
NOTE: Orange Ass Pressured The DOJ To
Lie/Try To Overturn The Election. Oooops
Add yet Another Crime He Will be hit with
Have A "Safe" Day!