The vaccines are working but if
we all just 'Pretend' Shit Is now
(We Know)
suddenly "normal", we will lose
all the Great Progress we Made
Now's the time to End it but all
Still masking, Following All The
CDC 'Guidelines & Slowing' The
"Opening" Of States Drastically
And, Speaking of "Things" That
are about to go to shit; too late
for Senate / House Republicans
Turns Out, R-Jon Cornyn, Likes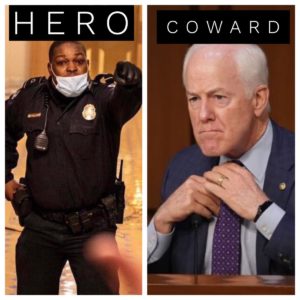 (Yup)
the other racist insurrectionist
fascist better than Biden. Well
Who Knew?!?!?! Who Could of
saw that kkkoming? Forget he
is a hateful, seditious bucket o
piss. He just Wants the "other"
racist nazi back to tweet more
& hold delusion rants; fuck off
This, is Their Entire Party Now
White Lives Scatter did a Rally
(Yup)
this weekend but was so badly
attended, it looked like a huge
Turns out, Racist fascist pricks
Aren't A Big "Draw". File That,
under "Stuff We already knew"
NOTE: In What Can only Be Called Insane Hate
Against A Driver Who Did Nothing Wrong, Cops
drew guns pepper sprayed threatened the man
With death & then tried to coerce him in2 being
Silent about their Racist hate. Ummmmm, nope
(Tomorrow the ol mixed my taser & gun excuse)
Have A "Safe" Day!