This was not An "Opening statement"
today. This was House Impeachment
(The Defenders!)
Mangers Laying Out And showing the
facts, fully explained our constitution
the law & reality itself. The "Footage"
was Gutwrenching. It Should be seen
again & again & again just so it never
HAPPENS Again. It's An Open, & Shut
Case. No Complexities, No Errors And
No Nuance. In fact, Even the defense
if you Can Call it that, knew it. It was
a big Clusterfuck by Castor. He made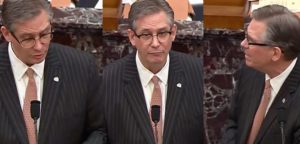 (King Turd!)
Lionel Hutz look like a Super Lawyer
And, Schoen was worse. Was It The
Lawfirm of Babbling & Angry?! WTF?
44 Republicans Voted No to Holding
the trial. They, Do, not, fucking care
While Today Is a Victory that Will be
felt for Decades. And the Republican
Party, 44 Of them, are now "lost" to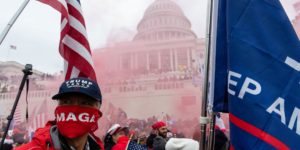 (<-R's Support It)
this Nation. They just sided with the
violent Fascist terrorists. There is no
other Way To See It. And So history
is Recording It ALL. Never To Forget
With this, They've Ended Their Party
What Comes Out in this Trial will Be
used for the next 10years in every R
election Against them. They will lose
NOTE: COVID Relief, Support, & Plan To Win
Against This Virus Are all just The Demoracts
Alone. So be It. They Can/Will Get This Done
FUNNY: When Your 'Kid' Leaves, a Kitty Filter
On your Zoom, And You're A Lawyer In Court
Have A "Safe" Day!
[give_form id="26992″]