Orange Menace "Tried" To Tone It Down For
a bit solely because he's desperate. It didn't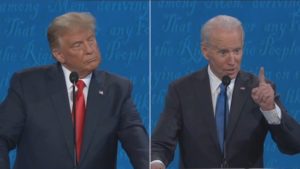 ("Pull My Finger")
stop the attacks, lies or lunacy. In fact shit
got Pathetically Weird. TRump Just Looked
like a Super Bullshitter, Who was just tired
of 'Slinging' His Bullshit. It didn't Stop him,
but he did it at a lower rate yet still did it &
Joe simply swatted away his lame attempts
easily. Biden is Picking Up Steam, and Don
is losing it. Writing is On the Wall now, but
none of it matters until we ALL keep voting
at historic levels. Vote Every republican out
Have a "Safe" Weekend!
[give_form id="26992″]