With just 12 Days to go, Before the Election,
a Political Party Daily Doing NOTHING about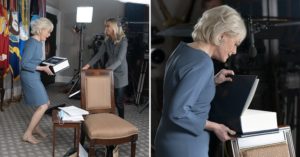 (<-Lying frauds)
a Pandemic & a country in dire need of real
leadership to Fix These Issues. Orange Ass
is "Walking out" on Reporters, posting their
failed bad interview making them look even
worse (If that's Possible) and offering blank
props as if they're Solutions. It's the end &
It never should've taken this long. He's also
clearly Slower/sick in the interview. There's
Not The Usual Adderall Rage. There, Will Be
no Real "Debate" Tonight. There, Will Be No
(Chris Shaw Art)
exchange Of Policies/Ideas. There'll Be The
next President of the United States standin'
next to a lyin' racist lunatic who ruined this
great nation and can't do a fucking thing to
ever Fix it. He Will be Muted, Have Nothing
Whatsoever To Say & Might Even just Walk
out at one Point, since he has Nothing. You
Read it here 1st and its a 61% chance of it
Keep VOTING, Turn it Out to Historic levels
NOTE: Once Again, There Is Not Systemic Voter
Fraud in Our Country. But, Most Of The One offs
Are From Trump Voters Committing The Crimes
NOTE II: Trump 'Lying Tool', Hogan Gidley, Lied
So Much trying To Fillibuster He Was Shut Down
By MSNBC's Hallie Jackson, Asking For Answers
Have a "Safe" Day!
[give_form id="26992″]