John Bolton Already Told the WH & the World that
Orange Anus TOLD him directly about the Ukraine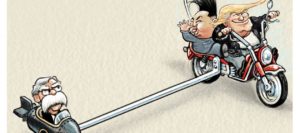 (Ooooops)
aid being held up solely for the Biden Dirt. That's it
The Entire Thing is over. It Always was. Shit, we all
already Had the Trump=Held Ukraine Aid Solely for
Political Dirt On The Biden's Before, From Sondland,
Vindman and Yovanovitch. Not only will be now Be
testifying but he corroborated Sondland that "every
one was in the loop". Pence…..Knew. Pompeo knew.
Barr Knew. Mulvaney knew. Told that right Here, &
didn't mince words about it. And what was The idiot
Defense teams Plan?! Russian Propaganda lies. Ohh
(<-Bad person)
boy! And to place the most Hypocritical Act in OUR
history, Ken Starr on the Senate floor tried to state
"Impeachment is way too Political & tears us apart!"
(Fake Cough "Fuck You!") What, a, lying pile of shit
He is now IN two of Only 3 Impeachments & on the
WRONG Side of Justice. Fuckin A; History Is Gonna
treat these immoral partisan lying Bozos so Harshly
And they Will Have "EARNED" every Damning Word
RIP: Kobe Bryant, Was Killed 'In A Helicopter' Crash with, nine
Other Souls. One Of Them, His Daughter. This, Is Horrific, And
It Breaks Your Heart. Now, He was accused Of Rape At A Time
Ago In 2003. The Woman Decided Not To Testify & Settled out
of Court. That Fact said, this is devastating for their family and
Feel Simply Sick. His Daughter Gigi Was a Shinning light, gone
WAY too Early. Hold your Kids Close, make every second count
Have a day!
[give_form id="26992″]