Trump is massively racist. He's ignorance, hate,
immorality, sociopathic indifference, mixed with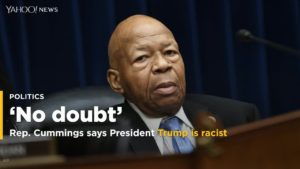 (True)
limitless lies. In every racist attack (Not speakin
to "Specific Policy", But to RACE ALONE Ignoring
reality) he "uses" the Word "infestation" for only
one reason. To dehumanize. What he's saying is
not remotely true; but racists don't live In reality
If they did they wouldn't be racist. This is the 1st
Step in Attempting to silence any Honest Dissent
and blunt Actual Immoral Horrific Policy Criticism
It will have the exact Opposite Effect. This is also
(We Know)
for the most Base of Reasons. Distraction. At no
point Does Trump/Republicans, Want to Discuss
Jeffery Epstein(who will eviscerate both sides in
his downfall), Robert Mueller and Impeachment
drums that are growing loudly. The media's now
playing Along like the Ad Revenue Assholes They
are now. Journalism Stood for the four W's (Who
What When Where Why & How) & H. Now, It's A
WWF Pro-Wrestling Bullshit sludge fest killing us
NOTE: Dan Coats Is Out As NID (National Intelligence Director)
Because, He Told The Truth About Russian Election Interference
And Now, The NEW 'Partisan Fraud' Stepping In To Echo Putin &
Trump is John Ratcliffe (Yes, these Villain names are funny as in
a Rat Jumping Off A Cliff) The Results of Unsafe elections is Real
And, This New Partisan Trump Anti-Mueller Fuck'll, Let It Happen
NOTE II: Another day, Another Shooting. More Death & it's from
another AR-15. More Guns, cause more Deaths. That, is a reality
Oh & LOOK. Its a Right Wing MAGA racist kid who did it, again!
Have a day!