Orange Fuckbucket, Lost $1.17 Billion From
1985-1995 Over 10 Years. This Was Already
(We know)
said over & over & over & over; you were all
WARNED he Was a 2 Bit Con man lying Shit
bag. He's the lying racist fraud biggest loser
William Barr Is Now legally Held In Inherent
Contempt Of Congress. The WH tried a Shit,
"Incorrectly Applied" legal move of trying to
assert 'Executive Privilege'. 1st off, that Was
Already "Waived". 2ndly, EP does Not Apply
here. These are not WH documents or some
(Ooooooops)
communications between the President and
Closest Aides they are Seeking. They're not
"Asking" the WH Anything. The fact the WH
"tried" this stalling legal attempt to cover an
imminent legal reality tells you they're done
It appears They're Going the Full Nixon, but
forgot that the "Report" Is Already Done. So
this is a Fast legal flop. If "Run out the clock"
is their Political Game; the Legal Reality will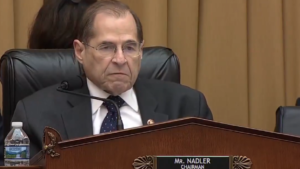 (Jail time!)
destroy, Jail & signals the end of republicans
(Nadler just put "Inherent COC" on the Table
Meaning Barr/Mnuchin/Kline, Can Go, To Jail!)
NOTE: Don Jr was just Subpoenaed by Republicans in
What Can Only Be Called, A Big Bold Move By Richard
Burr. He Was Asked, He Declined & So Burr Subpoena
Him. Now, Make no Mistake, This Could be Just To Try
To "Appear" tough on Trump Jr, "Helping" Republicans
Not Likely. He "Likes" D-Warner and they Will Nail Him
Have a day!
[give_form id="26992″]