After OVERT Republican Absentee Ballot
Voter Fraud (which is Extremely rare) it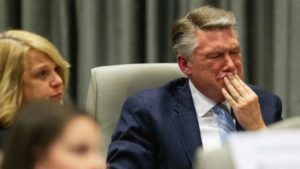 (Fuck off!)
is Now, Going Hold A Brand New Election
The 9th districts Mark Harris Broke Down
knowing he had A LOT to do with the shit
Well cry me a River ya assholes. They all
STOLE an election from the People & that
is pure evil. Oh, speakin' of pure criminal
assholes?!? Michael Cohen, Orange taints
"fixer" will be testifyin' next week. He will
"pull the Curtain back" on Chumps crimes
("Whaaaaaa")
Ahhhhhh, no Curtain Pulling Needed, that
shit's Sitting In A Monstrous Bay Window,
for everyone 2 see. Can't just hide what's
clearly In Plain Sight. Buckle Up "Citizens"
NOTE: Teen, Who Joined ISIS Wants To Come Back In
To The UK Asking For "More Mercy"?! Ahem, That's So
Like A Kid Who Joins a Band Of Roving Rapists, Hoping
When It's All Over, Folks, Can Forgive. No. You Made a
Horrific Decision. Now, Enjoy Those Bad Consequences
It's NOT youthful indescretions, you became a terrorist
NOTE II: Chicago Police Superintendent, Eddie Johnson
Just Did The Entire City Proud. His Words Echo so True
Have a day!
[give_form id="26992″]