As the Orange Asshole prepares for the rest
of his short life in jail……….like his buddy Paul
(Bye Bye)
Manafort Is Going to "DIE" There. Yes, you
read that correctly. As all kings horses & all
the kings felons are getting charged at light
speed, Flynn Is Now In Even Hotter & More
Treasonous water. Trying to get the Saudi's
Nuclear Power Reactors Oooooooooooooops
And, as The World Burns, Trumps Lil' Villain
Rodger Stone is now busted, again! He now
decided to post a picture of the Judge who's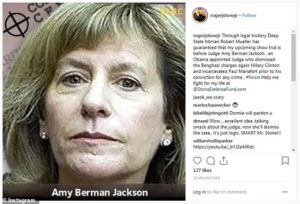 (Pure Evil)
hearing his case………..with cross hairs near
her head. He Deleted it Right after, but that
means nothing. The intent was clearly there
He hires only the "best" people, am I right?!
NOTE: And Back To Our Regularly Scheduled MAGA Bullshit
Racism. A Woman Told A Man To…."Get The Fuck Out Of MY
Country". Ah yes she was correctly asked to leave by others
Then she tried the ol' "I'm not racist, I just say racist things"
NOTE II: The White Sox Do NOT Land Manny Machado. He's
Now A Padre. Oh Well, Frees Up More Money For The Others
Have a day!
[give_form id="26992″]