Trump tried to deliver a speech to the UN today
And it Went about how you'd Think any Trumpy
(<-Dumbfuck)
speech would go. From bad, to worse to a laugh
when it wasn't supposed to be a Joke. Wooooow
what a fuckin' super Clown. If he Wasn't POTUS
it'd be a Shit ton Funnier. Hey, speaking of loud
lying Losers, It Seems there Will Now be a third
accuser Stepping Forward Wednesday against a
seriously 'Disliked' SCOTUS Nominee Brett Cave
Man Kavanaugh. And, The "ENTIRE" Republican
Party is Standing Firmly Behind Him. Which is a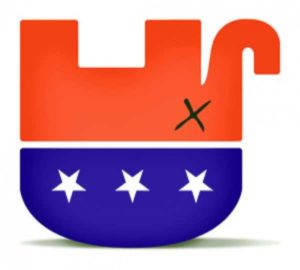 (Bye-Bye)
great thing for Voters To Witness 1st Hand. This
is death For The Entire GOP. Good, they now all
Own This Immoral Hate Standing Up For Sexual
assault, instead of Morality And Law. Vote Them
all out this November. Go Register to Vote folks!
NOTE: With Dr Ford Set To Speak This Thursday And
More Problems For Kavauanugh Daily, It Seems AS IF
The Entire GOP Has Now Stepped In A Big Moral Bear
Trap, That Will Never go Away. Ahem, They Shouldn't
Have been Hunting In the 1st Place & all Deserve This
NOTE II: Cosby Sentenced 3-10 Years in State Prison
Have a day!