So today Racists spewing hate on cell cams,
California ADA's Inciting Racist Murder, And
(Shit)
Trump Pardoning Felonious Cowboy Criminals
Makes this sadly a very horrific time in the US
history. Make no mistake, there are racist and
they want their hate back. This kind of hate is
not Acceptable Anymore. And using OUR cops
to Enact it, is Even Worse. Full house cleaning
Is needed. No More Of This. Ticket Those who
call The Cops On Citizens for racist reasons. It
Isn't A Fucking Game. It's literally life & Death
(It's fucked up)
Speaking Of Shit Shows, Trumps Big SCOTUS
pick is a far Right wing idealogue. He was one
Part Of The 'Ken Starr' Clinton Hate, The 2000
Stolen Election & has a 99% Republican rating
He's the Far right wing partisan hack to tilt the
court forever right. That's all. When goin' after
Clinton in The 90's, he Unloaded & Now Trump
is fucked, He Changed his stance to Never ever
being able to punish a sitting POTUS. WTF?!?!?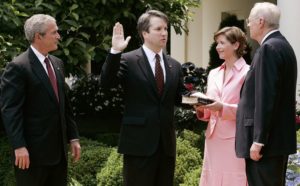 (Far right winger)
Every sitting Congress person should fight this
fucking lunacy With Every inch. If they don't it
is likely they will be gone in November if up for
re-election. This is next level evil shit. VOTE!!!!
Have a day!