Notably Fascist League? The "Owners" Decided
to bold faced Lie to America, using anal puppet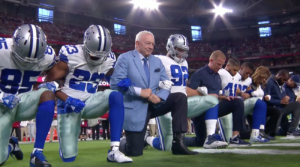 (Wha Happen?!?!)
Rodger Goodsmell. They Claim, "We All respect
the right to players freespeech & all their social
activism". Ahem with The new rules saying you
either STAND, or STAY in The locker Room says
that 'You' Clearly DO NOT. The Main Problem Is,
we Are having TWO Totally different US anthem
conversations. On One Hand ya have Select few
players usin' the freedom of our 1st amendment
to call our attention 2 the 14th amendment and
(Peaceful Protest)
its Civil Rights / Equal Protection Clause. See, It
never WAS about Troops, the flag, Or disrespect
Those are The incorrect Views of People unwillin'
to have That conversation they are all protesting
about. It Is intentional & how Disgustingly Gross
And the NFLPA Hasn't yet Fought Back. Look out
NOTE: Morgan Freeman Is Now An Old Perv As Well?!
Ohhhhhh Boy. That's Why I'm An Atheist, People Who
Even "Play" Gwad Can't Hack It. Ugh. How Gross, Sad
Have a day!