Today is all about "Fart Friday". There are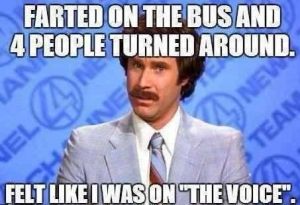 (The Ass Voice)
so many different styles, kinds, and classes
of that blast from your ass. Here are a Few:
-The Turd Rumbler(A thick berrrrap)
-The Squirrel Squeaker(Tiny squeak)
-The Bazooka Butt Burp(Loud boom)
-The Juicy Shit Shaker(Classic wet 1)
-The Anus Annihilator(Hard quick force)
-The Mud Flap Muffer(A soft murmur)
-The Bank Shot(Lift a cheek to echo it)
So start naming some of your today & share
NOTE: McCain Steps Up, Stating He Will Vote
"Nay" For The New Lying TrumpDoesn't Care
Bill. Nicely Done; History Will Be Kind To Him
Have a weekend!