A Progressive democrat's leading in
the polls in Georgia today. As we all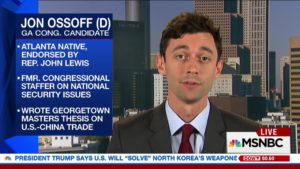 (Go get em!)
know, that means nothing unless ya
VOTE!!! This Special Election Has Us
all Watching. If You are Down there,
get out The VOTE for The Young Jon
Ossoff Bernie Progressive. We, Don't
yet know If This Election Does Mean
everything is Now Going Against the
Orange Anus. Either way This shows
voters having Buyers remorse & you
can bet it Gets Way worse from here
You never want to read to much into
(Fuck him!)
a Special Election, Yet if he Wins big
that Shows Signs Of Problems for all
R's in 18 even With Gerrymandering
This is a deeply red state & make no
mistake this is a vote against Trump
If you're in Georgia today, VOTE!!!!!
NOTE : THIS, IS, PURE, EVIL And It
Will Not Stand. Use EVERY Available
Resource To Find, Arrest, & Jail THIS
Murdering Sociopath Yesterday Folks
UPDATEÂ  : He Was "Chased" By Cops
Doing There Jobs, On A Tip When He
Killed Himself. A "Killer" & A Coward!
Update II: Jon Is LEADING NOW!!!!!!
Have a day!