Devin "I'm Trumps Bitch" Nunes, is
having some serious problems. The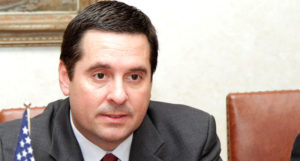 ("Look Away!")
problems are going 2 get worse on
each coming day. And they all have
to With Trumps direct financial ties
to Russia during that '16 Campaign
Aside from giving information to an
Orange Anus, who is the Subject of
this investigation is bad enough, so
now he blocked Ms Yates testimony
Oooooooooooooooooooooooooooops
(Why Cancel?)
Doesn't matter, it's all coming out &
the Senate'll have their own hearing
This Ends Up In Trumps Fat loud lap
NOTE: Trump Wants, To Step In The
Exact Same Bear Trap….Again. He Is
The Definition Of Inanity – Doing The
Same Failed Shit, Over And Over But
Expecting 'Different Results'. Moron!!
NOTE II: Bernard Mark's Today's Big
Hero. It Made The Hairs On The Back
Of My Neck Stand Up My Eyes Welled
With Tears. People Are NOT Going To
Take This Horror Anymore. No More!
Have a day!