Who Goes to an Event only to Call
said event "fake"? A Mega Nutcase
("Fake news!")
In what Can Only Be Called "Utter
Dysfunction & Rejecting all reality"
Trump didn't So Much "Meet with
the Press" as much as he "Verbally
tried to spew Insane Shit, not even
remotely Connected to Any reality"
Normally when I'm a Good Person
I don't Have To Tell You That. You
see the person I am & carry myself
as such. The Orange Anus Spewed:
"I'm really not a Bad Person by the
way" said NO ONE who Actually is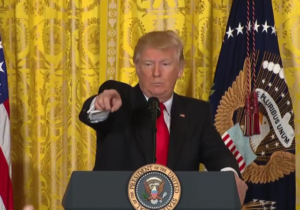 ("Ur fault I'm nuts!")
a "good" person. No, you are a tiny
handed, small minded, shallow ID
racist child who is FAILIN' at your
fucking job. Anything, and I Mean
A-N-Y-T-H-I-N-G he Says you can
bet the Opposite is True or it's just
Projection. No "modern President"
in the United States has ever done
this. Not, one. As more facts come
out this will Get Much Worse, and
(Ends Badly)
Don't Expect, Someone 'Detached'
from reality to grasp the Upcomin
collision with that reality. BOOM!
This child's literally a fuckin' idiot
NOTE: Every Blue Dog Democrat
Doesn't "Get It" And Will Likely B
Gone In 2018 Mid-Terms. GOOD!
NOTE II: Idiot White Supremacist
Racist Sought Another Dylan Roof
'Domestic Terrorism' Event. EVIL
And Superior Race?!?!?!! Hell, No
Have a day!