If Drumpf's goal was to reach out
To "African American" Voters. He
("Blacks love me!")
did the exact opposite by reachin'
out to his Racist White hate turds
instead. You'd Think his feet look
like Swiss Cheese The Amount Of
times he's shot himself in the foot
He asked A Suburban White click
about all African American voters
"What the hell do U got to lose?!"
Wow. Holy Fuck. Wow. That isn't
a Real Pitch to that community, it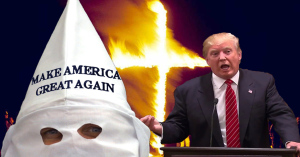 (We know)
is another "overture" to his Racist
Base. Well?!?! Only 2% Of African
Americans'll (And shrinking) Vote
Drumpf. Ha ha ha! Spitting in the
faces of folks who's Vote you seek
doesn't work. Well, he really does
not WANT 'That' Vote. Oblige Him
When FOX's Sean Hannity, Is The
Newest campaign adviser To BIG
idiot; All Their 'Problems' Are just
(<-Con Man)
beginning. Hannity even declared
"I never claimed to be a journalist"
Yes, you did. It's in your icon FOX
News. Then again, maybe he can't
even Read. So, try these lyrics on:
And now, our parties end is near;
And so we face, the final curtain.
So all my friends, I'll say it clear,
I'll state my case, of which I'm certain.
I've lived a life that's just bullshit.
I've traveled each and every Lie-way;
And more, much more than this,
We did it the LIE way.
NOTE: Democratic "Daddy", Tries
To 'Buy' His Son Patrick A Seat In
Office For 1 Million Dollars. Ewww
NOTE II:Â  'Newest' Drumpf Liar Of
The Week Is: Kellyanne CON-Way
Have a day!