The KKK supporting Drumpf trolls
Super PAC are now trying to claim
(Sadly, we know)
Hillary is a "KKK supporter". Why?
Because the Drumpf racists are all
trying to scream "So we're all just
racist, even them!". Ahhhhhhhhhh
no. History is very clear on all this
The party's flipped in the 50's over
the Civil Rights Act and the Voting
rights acts. Even bringing them up
caused all the Racist Democrats all
jump ship, to the Republican party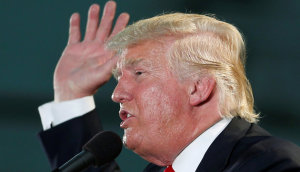 (Tiny Hands)
and they've Been The Racist House
Party ever since. It's just racist kids
shouting "I know you are, but what
am I!?!?". Because the very correct
label has stuck. Because it's so true
NOTE: Hover Board "Recall", Who
Knew? (Rolls Eyes) Of COURSE!!!!
It's Like Figuring Out Water Is Wet
EVIL: Two "Cops" Just Murder This
African American Man On Video, &
Somehow Their Cams Got "Busted"
Or "Detached". Confirm All Of This
NOTE II: Florida AG Pam Bondi Hit
Rock 'Bottom With "Bribes, Bribes"
Have a day!