California "Voting" Today Baby!
Queen Clinton got The Media to
already declare her the delegate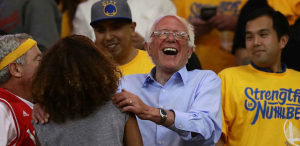 ("Good one!")
Winner. Forget she's Really Not
since SuperDelegates don't vote
until July. Without 'those' she is
not even close. It 'appears' they
Both will Not Have enough for a
win. If Sanders has A 'Big Night'
tonight, it makes things murkier
There is No Way he would clinch
(Vote Today!)
a nomination mathematically; &
the rub comes in where she can't
either. Remember when "Hillary"
did the same thing in 08 after the
last Primary? I do, and the Super
"Delegates" CHANGED over 2 him
very very very late after the cycle
It's pretty simple shit Right Here:
The actual result may not be known
until the votes are cast at the "DNC"
There are "Several reasons" for this
discrepancy. 1st some news sources
include the pledged delegates in the
Total Count, While "Others" include
"Superdelegates". 2nd, estimates of
superdelegate votes are unreliable &
are always simply subject to change"
Voter turn out was massive, and in
(Game on!)
this race?! Fucked With Very Badly
In Puerto Rico they expected about
700,000. You know how Many did
vote? About 59,000. How many of
the polling Places did they have up
in 2008?!? 1,500. Guess how many
they had up over the weekend?!?!?!
430. They claim it was due to lost $
problems/budget issues. With that,

(We know)
we at the least need to Open Voting
up. When that happens,it's good for
us all. Today and tonight VOTE and
do it up right! Go rock you day folks
NOTE: DNC Asked The "Media" To
NOT Post Super Delegates As If It's
A Forgone Fact. They, Didn't Listen
NOTE II: Everyone Knows Drumpf
Is Racist, Even All The Republicans
Sitting In "Office" Today. But Mark
Halperin Doesn't. What An Asshole
BUZZ: That "Racist Lying Liar" Lies
Again For 'Lie' Number 47,867,987
Have a day!