Yes, that's what our Corporate Media is tryin'
to sell us. Ahhhhhhhhhhhhhhhhhhhhhh nope
("Chill, I got this")
In every Poll, or Focus group following the big
debate; Bernie Sander Won By large numbers
But The Corporate Run Media/CNN All Sucked
Hillary Off Publicly Declaring HER the 'Winner'
Face it; "Pundits" are All Biased Idiot Assholes
Not Actual Journalists. THAT'S The Main Issue
They might as well be Republicans by rejectin'
all Facts, Polls, Statics, And Reality in Favor of
what they Badly WANT to be "true". No, Truth
doesn't pick sides. It simply is what it is unless
(We know!)
ya hate the results. Then change it to whateva
you like. But why? Because those news outlets
REPRESENT all the Billionaires. And they HATE
Bernie. Period. He Represents Something they
can't "buy out" or control, & that bothers them
Down Goes Dr. Douche!
Dr. Ben Carson, AKA, Herman Cain II-Electric
Boogaloo is "Suspending" his Campaign today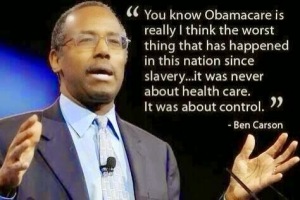 (STFU!)
But why?!? For a "book tour". Ahhhhhhhhhhh
yes the old "I'm not remotely winning this shit
so I'll just cash in! Cha-Ching!". He is focusing
on "Fund raising events" & promoting his book
"A More Perfect Union" also Titled "Hey Sucker
Why Not Just Burn Your Fucking $". He Will Be
Forgotten shortly & will be a marker of the last
Days Of This Republican "Know Nothing" Party
He is simply the symptom of the larger disease
(Yes, idiot!)
in their party. He's like the big enlarged Spleen
as that malignant cancer spreads to every body
part. A symptom can't Exist without the disease
He will appear On Stage October 28th, because
after all. He Still Has More Donations to Rake in
NOTE: Confederate Flag Racist Supporters Are
Charged With "Terrorism" After Interrupting A
Black Child's Birthday Party Shoutin Hate Slurs
Have a day!