Happy Turkey Day to all everywhere around the world!
Hope it's a great one. Sorry no post yesterday…but the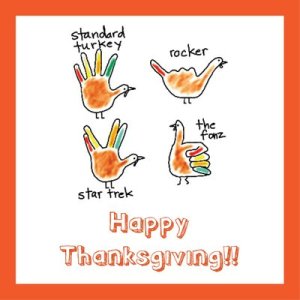 (True)
family is in town, so that comes first. What ever you do
today all the Libertarian Conservatives'll be the loudest
voice at the table trying to bully the conversation. Don't
let them. Be polite, keep your voice low/even and point
out the facts. Take yourself out of the conversation and
now go enjoy the day. Oh & sweat pants, crack out the
sweat pants…once your gut looks like the 3rd trimester
Have a Turkey Day!