The great news is that fuckin' dipshits always let
you know well ahead of time that they're fucking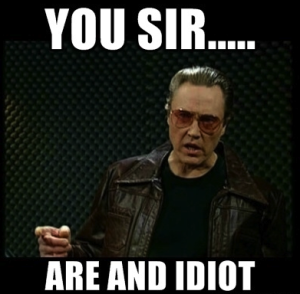 ("Yes you are")
morons. Their "horn" to warn you is their mouth
Suck Dynasty cousin Zack Dasher(is that a porn
name?!?!) is running for political office. And, HE
thinks, the term 'YOLO' (You Only Live Once), is
just an, "atheistic message that…brainwashed a
generation". You'd think he'd be done but oh no:
"Folks, the bottom line is this, Drake & Little Wayne
are wrong & Jesus was right. YOU CAN LIVE TWICE!"
Holy shit balls of super stupid. Nothing more sad
("I'm a moron!")
than a person yelling at the top of their lungs that
they have the answer, when no one does. See, we
do not know what lies past this life. You can think
it is heaven. Have at it, but you just can't 'prove it'
It is like he's mocking people who just want to live
in the moment, find joy, be kind to others, & have
passion/love/family/fun. His "idea", to waste your
life "hoping" you get another life after is really sad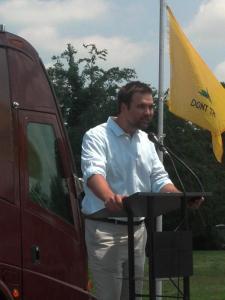 (Tea Party guy? No way!)
Honestly, poor guy just sounds "Jelly". Don't be A
Hater Dash or Dirk, or Zippy, whatever your goofy
name is. Just live & let live. But he can't. See, that
is the entire 'root' of the problem there. And that is
all you need to know. If it's "Such Goooooood" shit
it should sell itself; it can't. It needs "brainwashing"
Have a day!