Nobody puts Scotland in the corner. The UK basically just
"Swayzed them" back. Scotland voted, to stay with the UK
("Swayzed")
Nice! They could have declared independence. But then u
have to come up with new currency, political systems, and
soooooooooooooo much more. Hell, they'd have to change
King Arthur's Seat to, "Haggis Hill". Think, of all the extra
work changing maps, signs, & streets to reflect the change?
Shit, they'd go in debt just bringing everything up to speed
Besides, it is like the old saying, "Once you go "Queen" you
never go back". You go from "Royalty", to playing with your
"I can't see!")
bag pipes. Not exactly a move up there now is it? Face it you
never really wanted to break up in the first place. Ya thought
you had buyers remorse. Well, you didn't, you love England
They're your Broke Back Mountain, you just can't quit them
Now…Another Overtly Racist Republican
Kentucky Republican Robert Ransdell has such a delightful
new campaign slogan "With Jews We Lose". How charming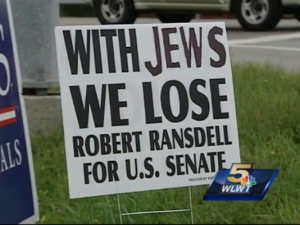 (Oh shit!)
He also "believes": "There is no such thing as racial equality.
You see that in our cities every day". Racist, AND stupid, SO
expected. But, if I know 'Republican Racists' like I think I do
He's not done there. Ohhhhhhhhhhhhhhh no, one more gem
"There was a time in this country, not long ago, when blacks knew
better…when they did not see whites as…..easy targets. When they
knew that there were real consequences……if they were to attack a
white person, especially………………a white woman or a white child.
(Pause) Black people are a race of savages living in a white nation"
He's a nazi White Separatist. And this is the single biggest
shit about to tear down an entire Republican party. It isn't
their evil, failed polices against everyone. It's this guy, and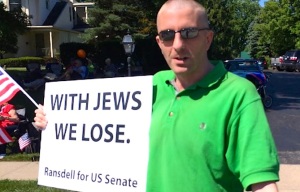 (Super Asshole)
everyone courting votes of people like him. I am guessing,
if you vote for him, a big ass trap down opens, to a furnace
He spoke at U of Kentucky saying the same thing. His mic,
was cut. He IS the Tea Party views. Their mic'll soon be cut
Note: The Bears WON last night in Jersey, way to go guys!!
Have a day!