I'm back baby!!! Did you miss me? No? In fact
ya had such a fun time without me, that I must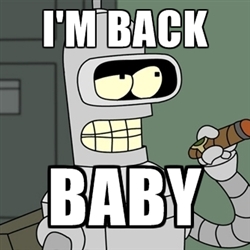 (Boom!)
always stay away for long periods of time?!?!?!
That makes me regret going. Now on to big shit
McDonald's, Wendy's, & other 'fast-food' joints
are expected to be targeted with big acts of civil
disobedience that may lead to arrests Thursday
as labor organizers start a campaign to unionize
the industry's workers. It's the "Fight For $15" &
it's what's needed. For all the 'Loud assholes' on
(Ooooops)
the right who scream, "It wasn't intended to be a
career" ask your top 1% donors who cocks you all
suck daily where are the fucking JOBS? They DO
not care. Profits over people, is a losing situation
The Tan Suit Fuckheaded Fakeoutrage
Forget the rightwing hate machine can't use any
facts, so many previous examples of why they're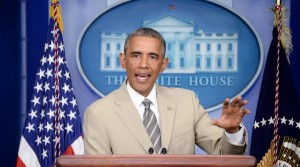 (Really!?!?!)
wrong, or accept reality itself. They hate Obama
because he's black; never before have I seen this
level of utter insane hate. Not even the Clinton's
The hate turds on the right lost their ever loving
shit over Obama "wearing a tan suit". WTF!?!?!?
Forget Reagan wore one, GHW Bush wore them,
Clinton wore them, & even 'W. Bush' wore them!
We've officially arrived at "Republican Idiocracy"
(No shit!!!)
If you vote for Republican, you deserve everything
you're going to get. And it's ignorance, hate & lies
Always take the progressive Democrats and weed
out the Corporatist Wall Street lobbyist $ Whores
Have a day!