It's seems there is no low Republican's won't hit these
days. This sadly is no different. Now, we already know
(We know)
every Republican, will do NOTHING, to fix our broken
"immigration system". They also ALL do not know the
difference, between illegal immigrants, & refugees. It's
a breathtakingly stunted insane view of complex issues
Again nothin' new but let us play a fun new game. It is
called, "Did Republican Gun Nuts Say It Or The KKK?!?"
"To me, they're breaking the law when they come here"
"They….(will keep)breaking the law once they get here"
"These illegals crossing, bring in Third World diseases"
"Pop a couple of them off…leave corpses on the border"
"We should have a 'Shoot To Kill' policy for all illegals!"
OK, now lock in your answers. They were ALL the KKK
But be honest now. Could you tell a difference between
their specific hateful views, the RNC platform & Milita?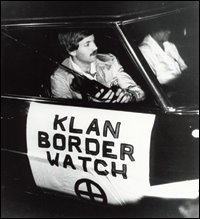 (Look familiar?)
Me neither. The Klu Klux Klowns, wear masks, because
they're ashamed of society. Good! They should be. Now
what's the rest of turds standing the Republican party's
excuse? The house won't ever act republican's just hate
Loud Loony Loser Rejects Reality
Mississippi, you have a 'dangling douche fuck stick' still
spewing "bullshit lies" after he lost the primary election
("I'm a loser bigot!")
Overt bigot, Chris McDaniel's, thinks he actually "Won"
by 25,000 votes. So, since he's making shit up, why not
make it 1 million? He lost by over 7,000 votes & is doin'
what all Republican's do when "confronted with reality"
Lie, pretend it doesn't exist, & be a loud child who'll sue
He will lose the suit, because you must file 12 days after
the election if you contest it. It has been 28. Game over!
It's "amazing" how stupid lying asshole bigots can all be
(Well no shit!)
These fuckers are in a chronic 'losing battle' with reality
But don't let that stop em, say "god" gave the win to you
so those fund raising letters can be sent to all the 'rubes'
When you vote RNC you are a sucker, a chump, a RUBE
They all can't count, unless it's YOUR money you losers!
Tomorrow: Republican's Don't Like To See Immigrants
Have a day!